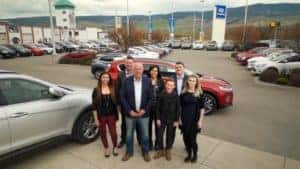 Welcome to Maple Ridge Hyundai! We are a family-owned Hyundai dealership that is proud to be a part of the Maple Ridge community. We are very involved with local events and charities because our family believes in doing our best to make Maple Ridge and the surrounding areas a better place. We serve people from all over the region including cities like Coquitlam, Surrey, Langley, Abbotsford, Port Moody, Mission, Pitt Meadows, and more!
Maple Ridge Hyundai wants to make buying a car as affordable as possible, and that's why we guarantee the best price, and we will even beat any competitors price by 10% of the difference. The price must be on the same vehicle with the same trim level and options, and we must be able to confirm it with our competitor. Some further restrictions do apply, but it's good to know that you can always get the best price from Maple Ridge Hyundai.
With our inventory of fine Hyundai models, you are sure to find something you'll love. We have all the most popular models including Santa Fe, Tucson, Elantra, and more. Whether you need a compact, sedan, crossover, or SUV, Maple Ridge Hyundai can help. We also have an extensive used inventory and we are here for any Hyundai service that you may need. Looking for financing? We can take care of that too and we can take care of your trade in too. Consider Maple Ridge Hyundai your one-stop automotive shop for all things Hyundai.
If you found the ideal Hyundai model at Maple Ridge Hyundai, but you don't live near us, then perhaps we can help. We love serving out-of-town customers, and if you need to fly in to see us, we can assist you in making all the reservations including local transportation and hotel accommodations. We can't book your flight for you, but once your purchase is finalized we will reimburse you for your plane ticket. Some restrictions do apply. Get in touch with us for further details.